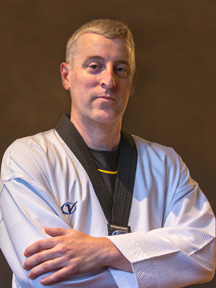 Master Brian Wright
HEAD INSTRUCTOR, 6TH DAN TAEKWONDO (KUKKIWON)
Master Wright received his formative martial arts training in taekwondo under Dr. Ken Min at the University of California, Berkeley. After moving to Washington, DC in 1991, he and other UCB alumni founded the taekwondo club at the George Washington University. Within a year he began teaching a taekwondo credit course in the Exercise Science Department, while continuing to oversee club instruction. During his 23 years at GW, he also designed and taught other martial arts courses (Japanese Swordsmanship, Asian Martial Arts: Origins & Development, Kendo, Iaido) and coordinated instruction for the GW kendo club. Since the summer of 2015, Master Wright has focused his efforts on creating new martial arts training opportunities for the greater DC community under the banner of DC Taekwondo.
Additional:
International Taekwondo Master 2nd Class (Kukkiwon)
Taekwondo Examiner 2nd Class (Kukkiwon)
Iaido 4 Dan (AUSKF)
Kendo 3 Dan (AUSKF)
Drew Cahoon
INSTRUCTOR, 4TH DAN TAEKWONDO (KUKKIWON)
Drew has been studying various martial arts since 1982, among them tai chi, Shotokan karate and iaido. He began focusing his studies on taekwondo in 1992 at Boston University. Drew has established and led several taekwondo training opportunities in the greater Baltimore and Richmond areas, including at Virginia Commonwealth University and various branches of the YMCA. He has also coached GW students at the National Collegiate Taekwondo Championships on multiple occasions. Most recently, Drew has been leading RVATKD at the Robinson Theater Community Arts Center. RVATKD is affiliated with DC Taekwondo and frequently participates in joint events between the two organizations. With a background in non-profit performing arts management, Drew recently founded Cahoon Solutions LLC – a technology consulting firm focused on practical solutions for non-profits.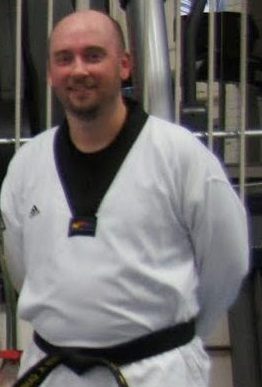 Danielle Fumagalli
INSTRUCTOR, 4TH DAN TAEKWONDO (KUKKIWON)
Danielle has been a taekwondo student since the age of 6. In college and graduate school, she was a member of the UC Berkeley competition team and a teaching assistant for UCB taekwondo credit courses, and was one of the instructors for the University of Chicago taekwondo club. She has been with DC Taekwondo since moving to the DC area in 2011. In addition to DCTKD, Danielle teaches children's taekwondo classes in Falls Church, Virginia, and previously taught taekwondo for the City of Rockville in Maryland. In her day job, Danielle works for the Office of the U.S. Trade Representative.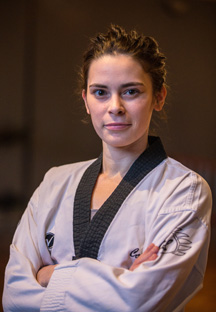 Jocelyn Roberts
INSTRUCTOR, 4TH DAN TAEKWONDO (KUKKIWON)
Jocelyn has been a taekwondo student since 2006. She began practicing at Eagle Spirit Taekwondo Academy in Yogyakarta, Indonesia under Master Vincentius Yoyok Suryadi and at the Staadt Olympic in Phnom Penh, Cambodia under Master Satha Khim, coach of the Cambodian national team. She started studying with Master Wright at GW in 2011 and has been a member of DC Taekwondo since it was established. After returning to the United States, Jocelyn served as a resource to both the Indonesian and Cambodian clubs by supporting expansion activities to attract international competitors to local events and to identify funding to send athletes to international competitions. Jocelyn competed at Maryland State Championships and took bronze in sparring at Nationals in 2014. She also has been a certified referee. In her day job, Jocelyn works for the U.S. Department of State. 
Additional:
International Taekwondo Master 3rd Class (Kukkiwon)